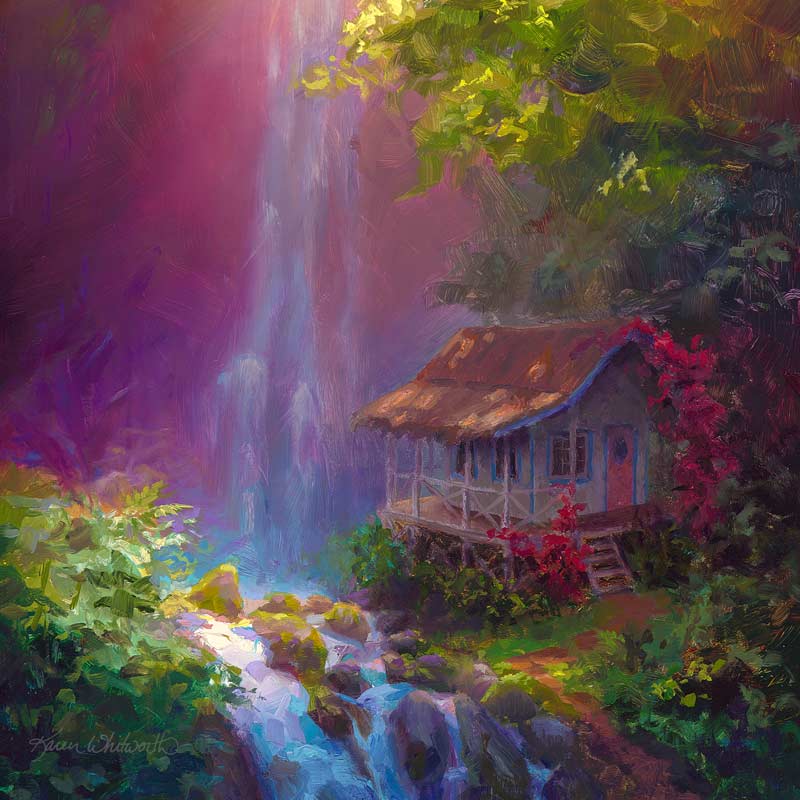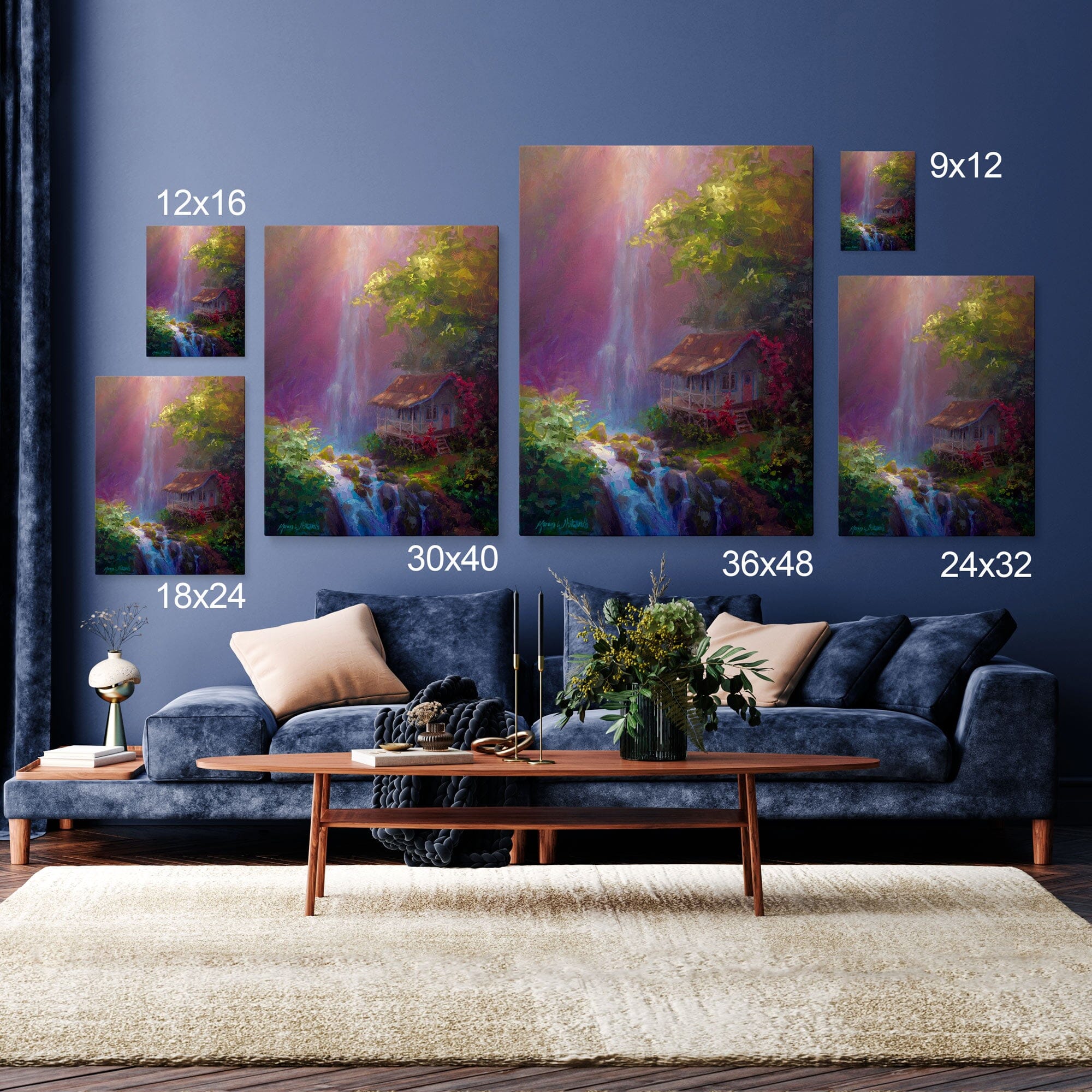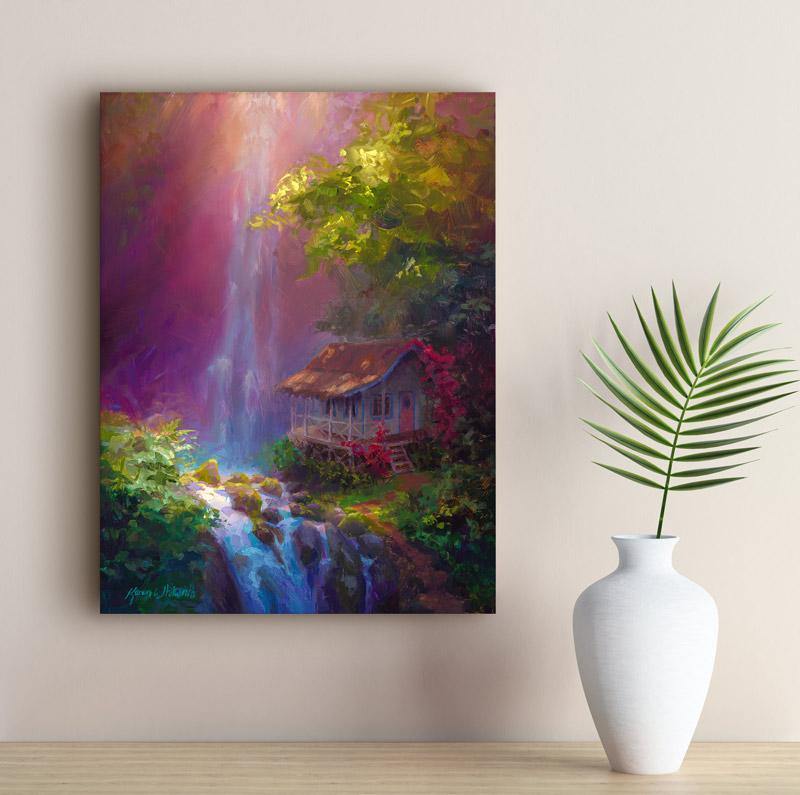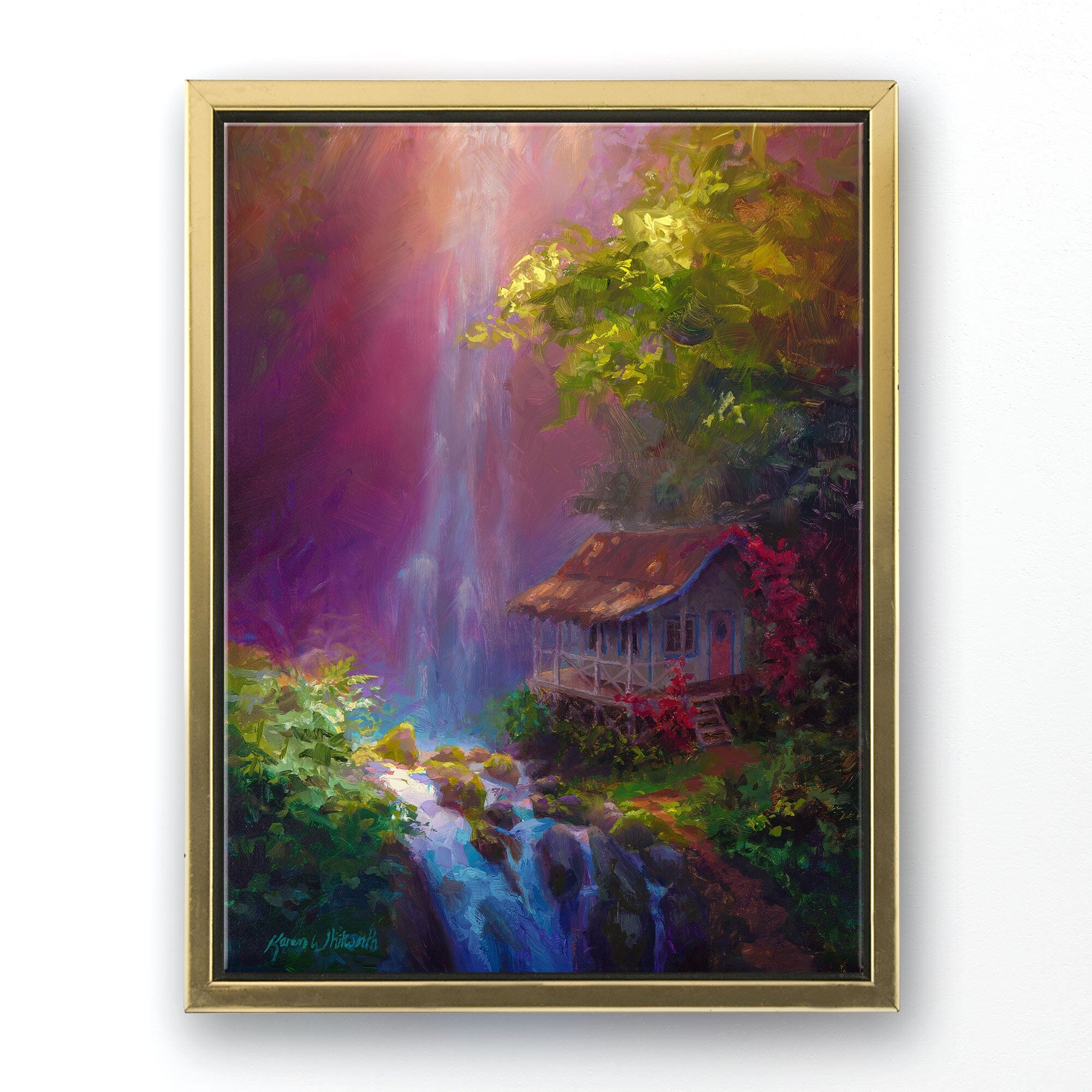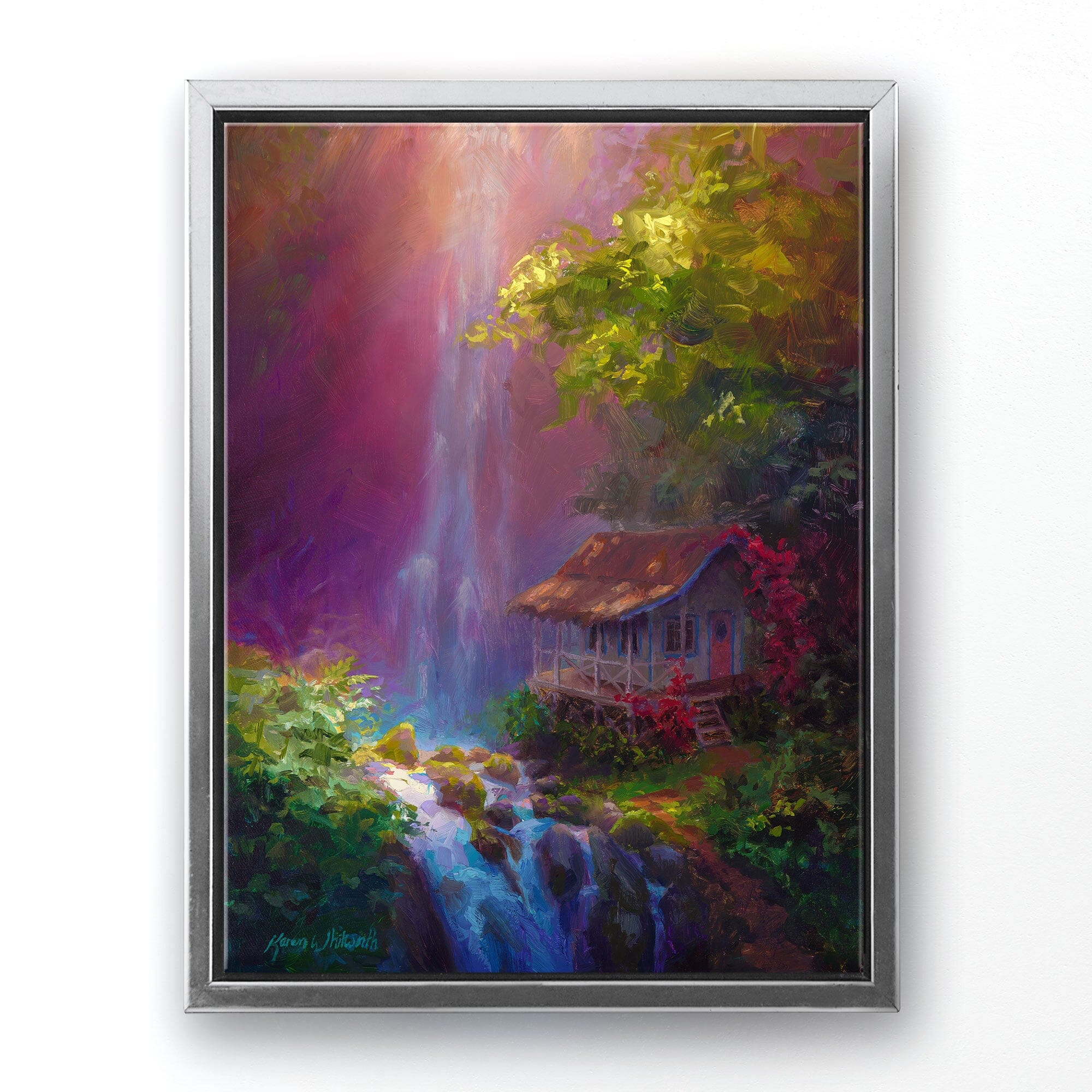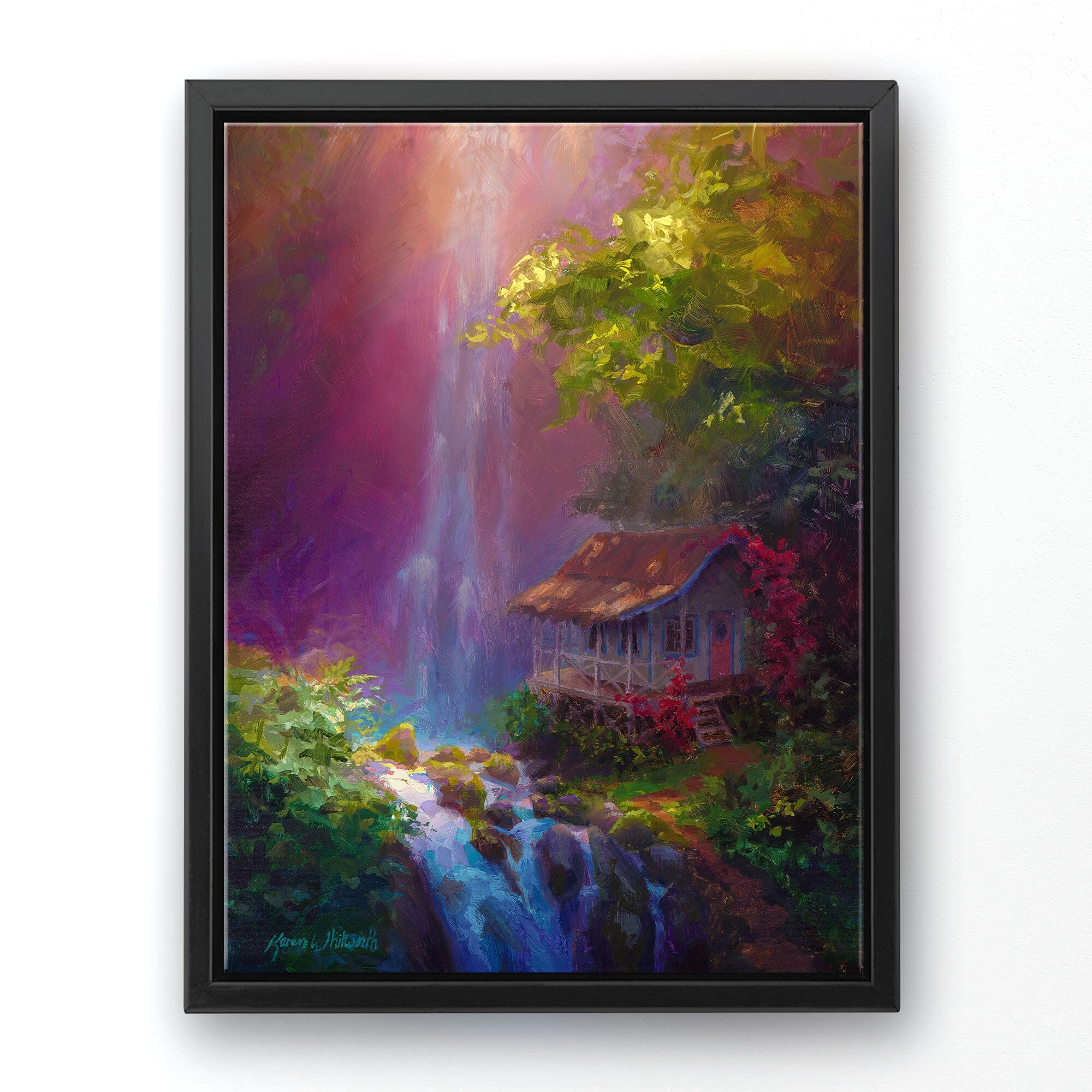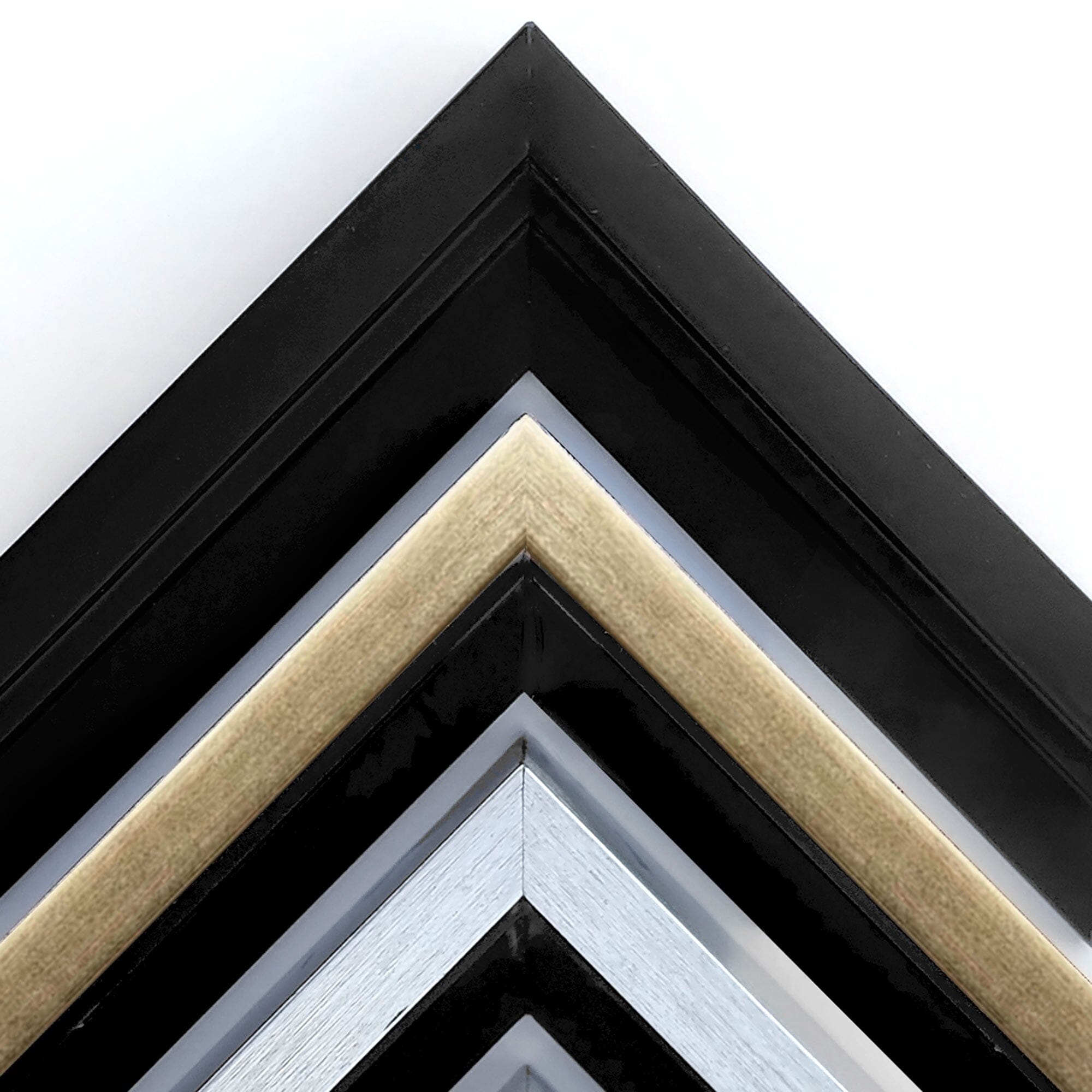 Waterfall Painting with Hawaiian Cottage - Healing Retreat Wall Art Canvas
Painting by Artist Karen Whitworth
Ready to hang canvas print
Handmade in the USA
Solid wood construction
Satisfaction Guaranteed
Description
A Dreamy Jungle
This vibrant tropical waterfall painting, titled "Healing Retreat" represents what many feel when they disembark from a long journey and step foot on to Hawaii's tranquil shores. From the sweet scent of lush vegetation filling the air, to the refreshing colors that seem that much more vibrant here, Hawaii is healing. To the artist, the sight of a beautiful waterfall represents abundance and providence which is shown in the flowing water as it cascades down towards the viewer. A tree towers over the quaint cottage reaching for the veil of warm light as it falls through the jungle canopy above. Vibrant and vivid color bathes the scene in a kaleidoscope of visual delight. It reflects in the water as it tumbles over every rock and illuminating the mist. This ethereal landscape painting symbolizes healing comfort descending from above and soothing a tired traveler or wounded soul. Using the vibrancy of colorful oil paint and the subtlety of light, this waterfall scene is a vision of restoration for those who seek comfort. This picture is inspired by the serenity that accompanies that fulfilling experience.
 Features
Hand made in the USA

Fadeproof color

Heavy-duty solid wood construction

Ready to hang
FREE Shipping in the USA
(Including Hawaii & Alaska)
Order with confidence knowing your beautiful waterfall print on canvas is made by hand with Aloha and packaged with great care. We provide you with a tracking number so you can follow its progress as it makes its way to your door. We pay the shipping and ensure everything arrives in perfect order. We work hard to make sure your satisfaction is guaranteed.

Production Time
This wall art canvas is handmade to your specifications. Please see delivery estimate for current canvas order production times.
If there are ever questions about your order, we will be standing by, ready to assist. Our customers can always reach us directly at info@karenwhitworth.com


If you have a thing for colorful waterfall paintings or even just a peaceful tropical landscape, be sure to visit our virtual fine art gallery to see our whole collection of Hawaii paintings and wall art. From florals and beach scenes to underwater wonderlands, we have a large array of tropical wall decor paintings to dazzle you.
Care Instructions
As with all art intended for indoor use, please do not display art exposed to harmful UV rays. Keep out of direct sunlight. If needed, dust with clean microfiber cloth.
---
Waterfall Painting with Hawaiian Cottage - Healing Retreat Wall Art Canvas
Shipping
Guaranteed Delivery
Shop with confidence knowing that your order will arrive safely and securely packaged to ensure protection during shipment.
Order tracking
All orders come with tracking information so you can follow your shipment every step of the way.
Get in touch
The karenwhitworth.com team is ready to help with any questions you may have: Contact us
Enhance your space with wall art
Boost the aesthetic of your home or office with our vibrant canvas art prints by Karen Whitworth. These prints set the tone of the space, create a sense of warmth, and add personality that reflects your unique style and taste.
Not only can canvases enhance the overall decor and interior design of a room, but they also create beautiful focal points, tying the room together.
About the Artist
Karen Whitworth is a contemporary artist whose vibrant works celebrate the beauty of Hawaii's landscapes, seascapes, florals, and wildlife. Her unique approach to light captures the essence of Hawaii's ever-changing natural beauty, using bright and vibrant hues that reflect the dynamic colors of the islands.
Karen's artistic journey began in the Pacific Northwest as a child, where she was surrounded by lush forests and rugged mountains. Her love for capturing the beauty around her grew to encompass the Islands of Hawaii, where she finds inspiration in the diverse natural landscapes and rich cultural heritage.
As her portfolio continues to grow, Karen's love for nature remains a prominent hallmark in her works. Her use of vivid colors and bold brushstrokes draws collectors to her art, but it is the captivating quality of her work that truly sets it apart. Karen's art is perfect for enhancing any living space or dwelling, elevating it with the vibrant and uplifting presence of Hawaii's natural beauty.
Why our customers love us...
"

The colors of this beautiful print just sing! Can't wait to get it framed. Quick shipping. Thank you.

"
"

The only difference between what you see on the website and what you get in the mail is that it is even more beautiful in person. My print is now in a koa frame with matting that brings out the colors of the house. It hangs in my living room and really adds to the beauty of my home.

"
"

Even though the photo delivered matched the one I ordered, the color and quality of this photo surpassed any expectations I had. It was packaged with care and arrived undamaged. I love this picture. Thank you Whitworth Gallery.

"