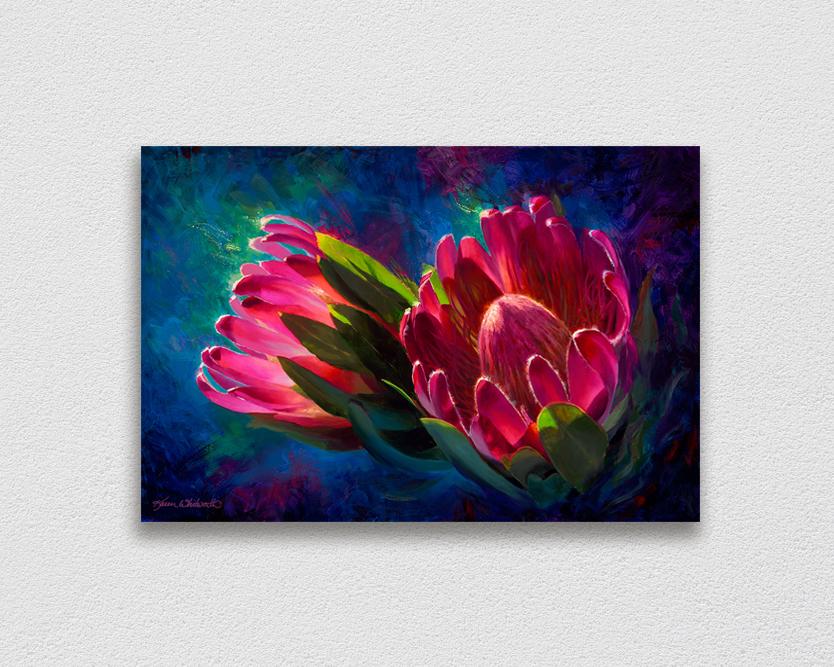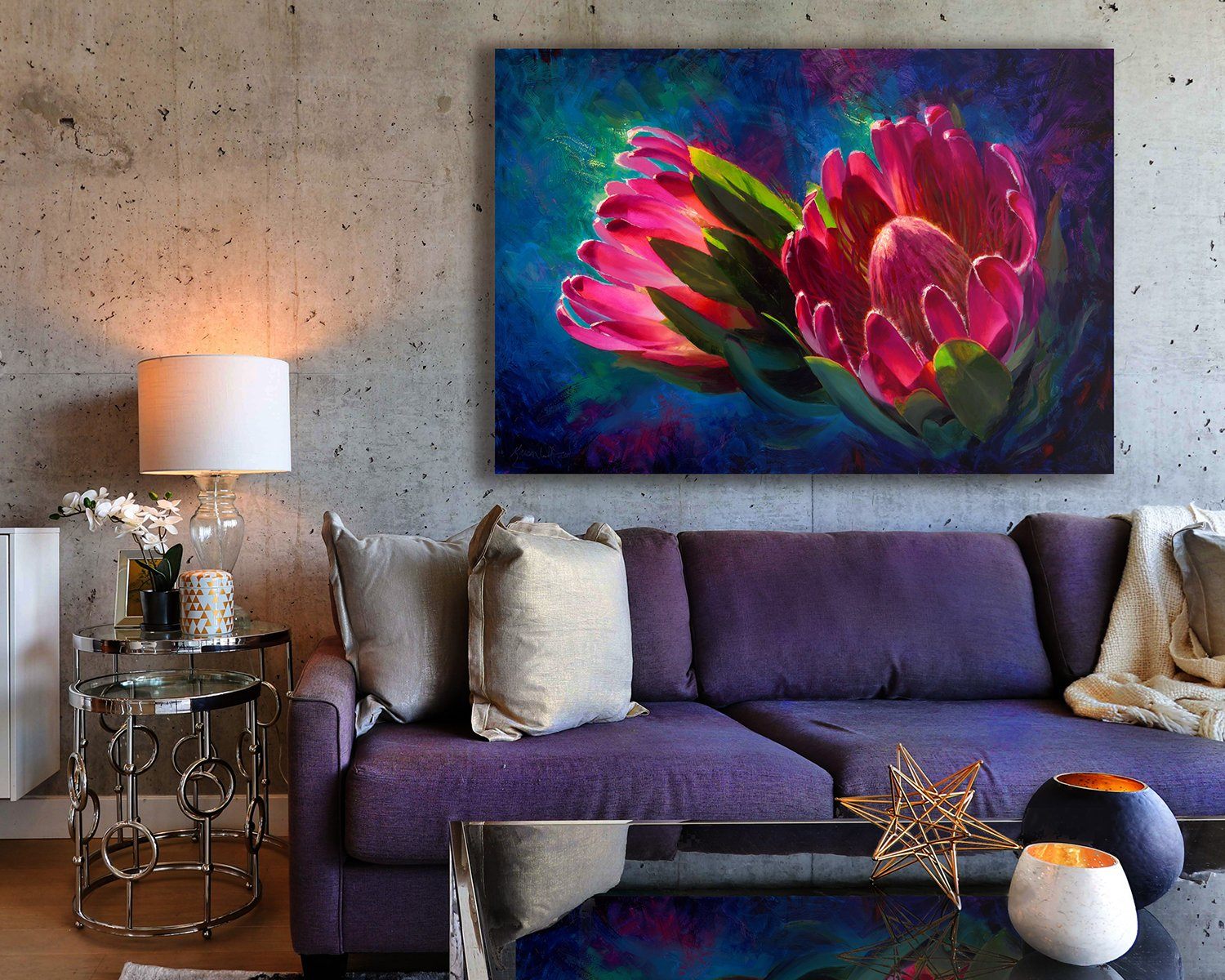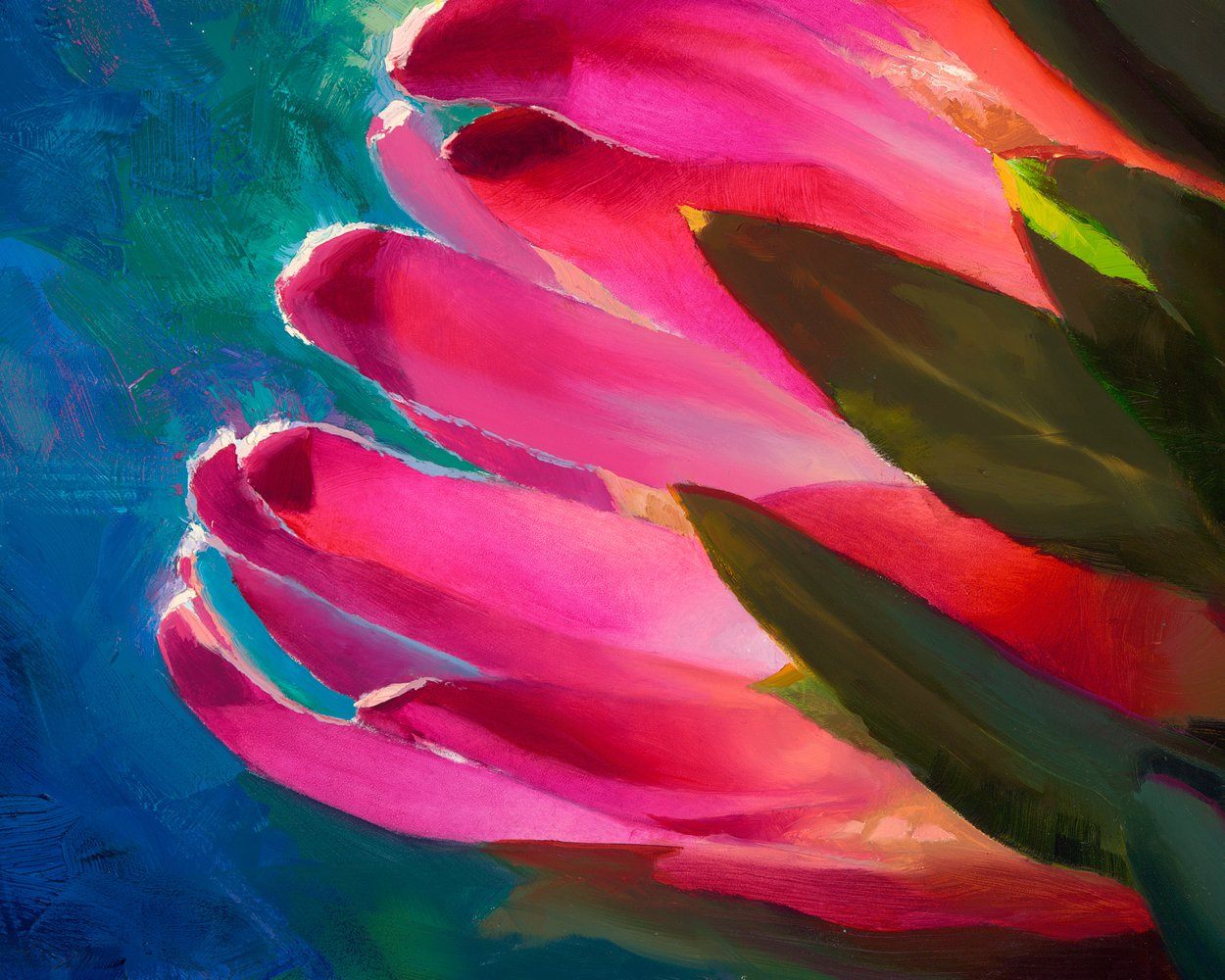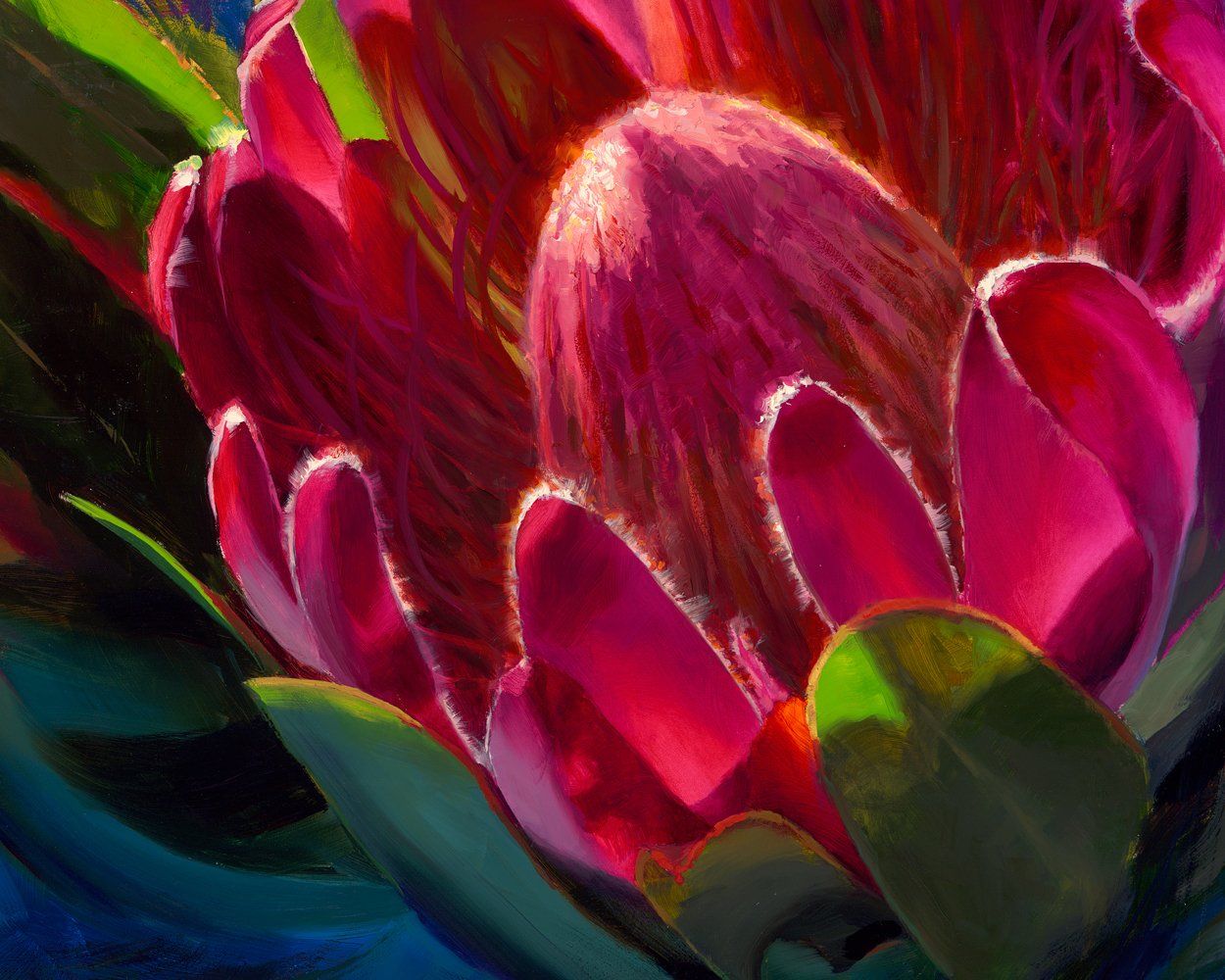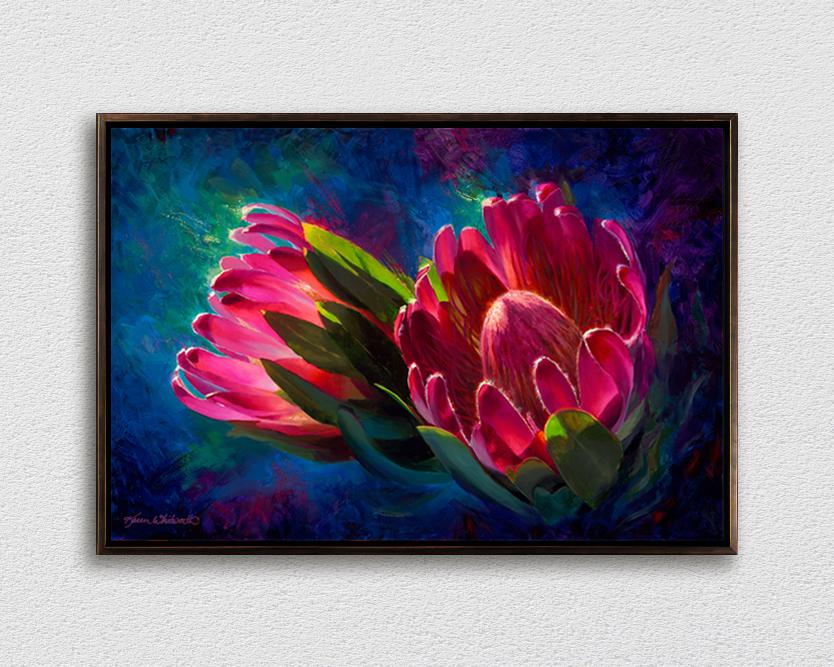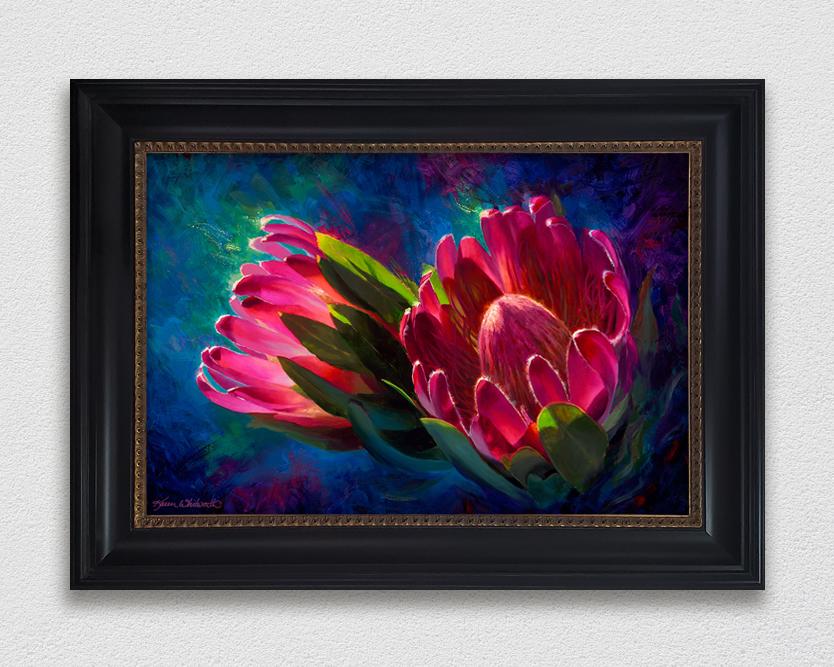 Protea Canvas Print of Hawaii Flower Painting - Sunlit Protea
Painting by Artist Karen Whitworth
Ready to hang canvas print
Handmade in the USA
Solid wood construction
Satisfaction Guaranteed
Description
A Protea Flowers Hawaii Painting
An electric scene of two bold protea flowers seems to emanate light from within as color and hue dance from petal to shadow and back again. From deep soulful blues that fade to violet, to the radiant magenta that beams with vibrancy, the scene speaks of a deep and passionate truth, a truth of light overcoming darkness with beauty.
Ancient Roots to Modern Floral Beauty
The protea flower is ancient in that it's roots can be traced to the time of the dinosaurs. From these prehistoric times it brings us a mysterious and captivating glimpse of what our planet use to be. Now common in several places on the Hawaiian islands, this beautiful flower is not native to this part of the globe. Cultivated here in the volcanic soil as a transplant, it is now a cherished part of many tropical flower arrangements and Hawaiian floral decor. Several Hawaii protea growers even have tours where you can see these beautiful protea plants in in all their glory.




Wall Art Canvas Features
Hand made in the USA


Vibrant fadeproof color

Solid wood construction

Ready to hang
FREE US Shipping
Order with confidence knowing your beautiful art print on canvas is made by hand with Aloha and packaged with great care. We provide you with a tracking number so you can follow its progress as it makes its way to your door. We pay the shipping and ensure everything arrives in perfect order.

Production Time
This canvas is handmade to your specifications. Please see delivery estimate for current production times. Shipping time within the US takes approximately 3-5 business days. (This may be subject to local or holiday delays)
If there are ever questions about your order, we will be standing by, ready to assist. Our customers can always reach us directly at info@karenwhitworth.com
Care Instructions
As with all art intended for indoor use, please do not display art exposed to harmful UV rays. Keep out of direct sunlight. If needed, dust with clean microfiber cloth.
---
Protea Canvas Print of Hawaii Flower Painting - Sunlit Protea
Shipping
Guaranteed Delivery
Shop with confidence knowing that your order will arrive safely and securely packaged to ensure protection during shipment.
Order tracking
All orders come with tracking information so you can follow your shipment every step of the way.
Get in touch
The karenwhitworth.com team is ready to help with any questions you may have: Contact us
Enhance your space with wall art
Boost the aesthetic of your home or office with our vibrant canvas art prints by Karen Whitworth. These prints set the tone of the space, create a sense of warmth, and add personality that reflects your unique style and taste.
Not only can canvases enhance the overall decor and interior design of a room, but they also create beautiful focal points, tying the room together.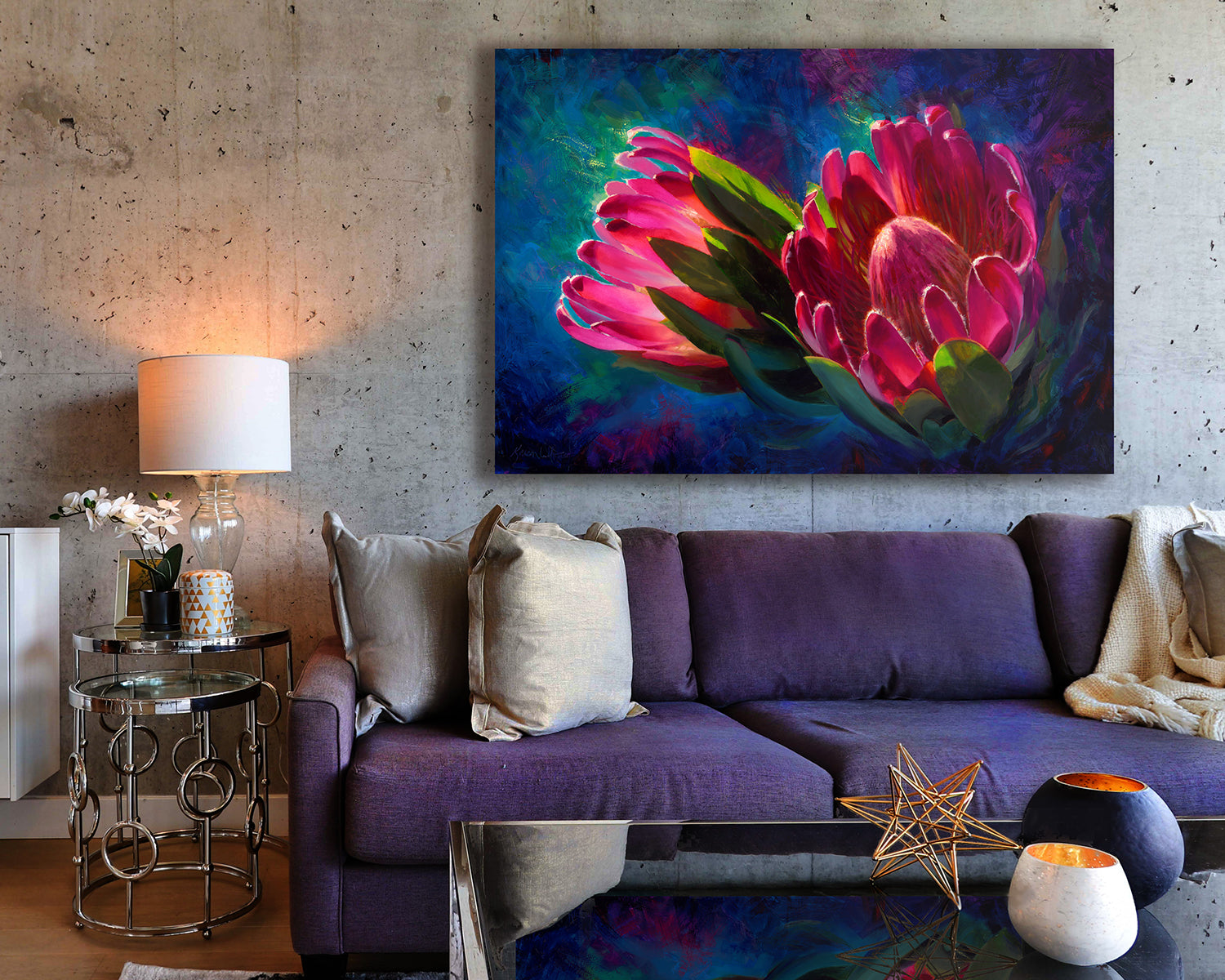 About the Artist
Karen Whitworth is a contemporary artist whose vibrant works celebrate the beauty of Hawaii's landscapes, seascapes, florals, and wildlife. Her unique approach to light captures the essence of Hawaii's ever-changing natural beauty, using bright and vibrant hues that reflect the dynamic colors of the islands.
Karen's artistic journey began in the Pacific Northwest as a child, where she was surrounded by lush forests and rugged mountains. Her love for capturing the beauty around her grew to encompass the Islands of Hawaii, where she finds inspiration in the diverse natural landscapes and rich cultural heritage.
As her portfolio continues to grow, Karen's love for nature remains a prominent hallmark in her works. Her use of vivid colors and bold brushstrokes draws collectors to her art, but it is the captivating quality of her work that truly sets it apart. Karen's art is perfect for enhancing any living space or dwelling, elevating it with the vibrant and uplifting presence of Hawaii's natural beauty.
Why our customers love us...
"

The colors of this beautiful print just sing! Can't wait to get it framed. Quick shipping. Thank you.

"
"

The only difference between what you see on the website and what you get in the mail is that it is even more beautiful in person. My print is now in a koa frame with matting that brings out the colors of the house. It hangs in my living room and really adds to the beauty of my home.

"
"

Even though the photo delivered matched the one I ordered, the color and quality of this photo surpassed any expectations I had. It was packaged with care and arrived undamaged. I love this picture. Thank you Whitworth Gallery.

"