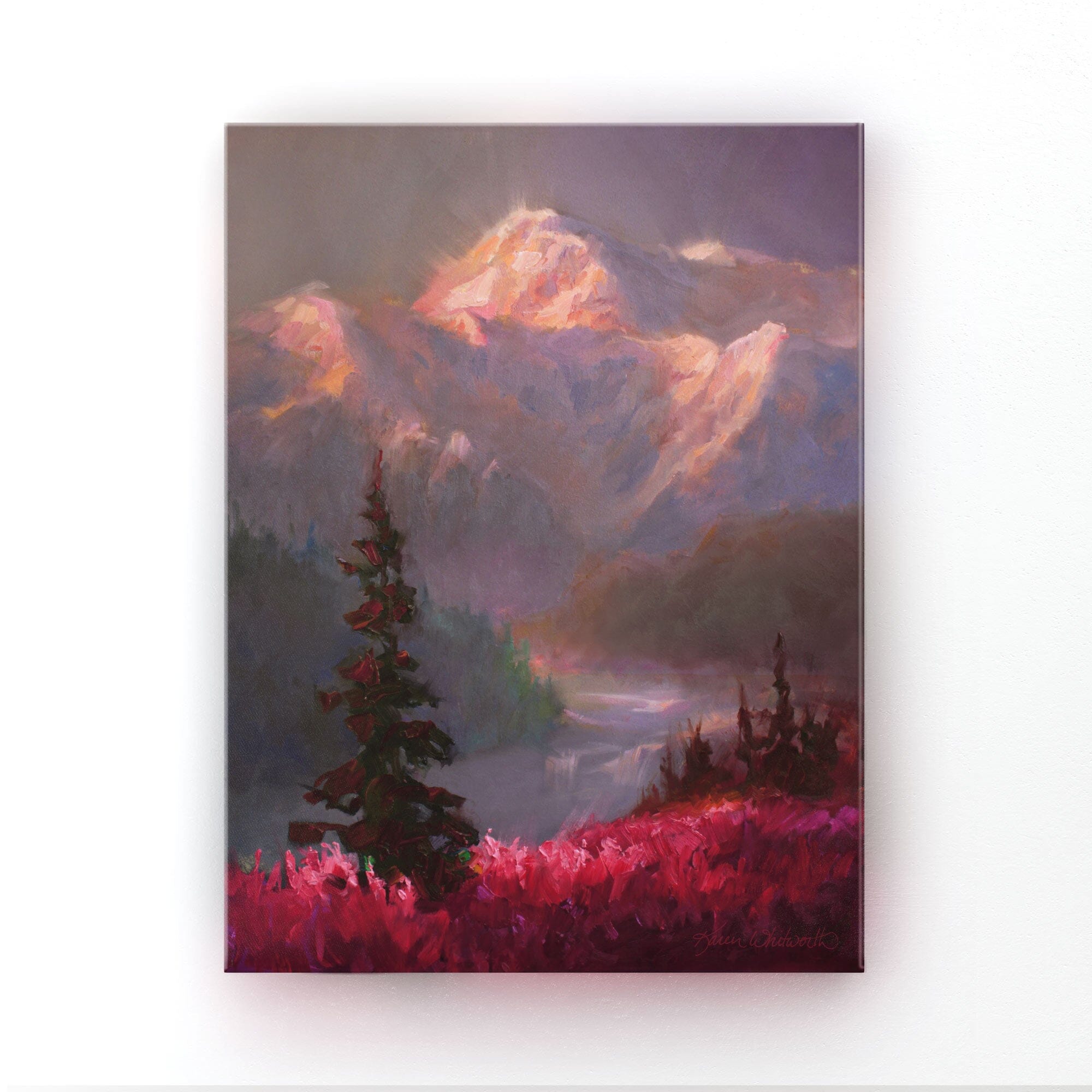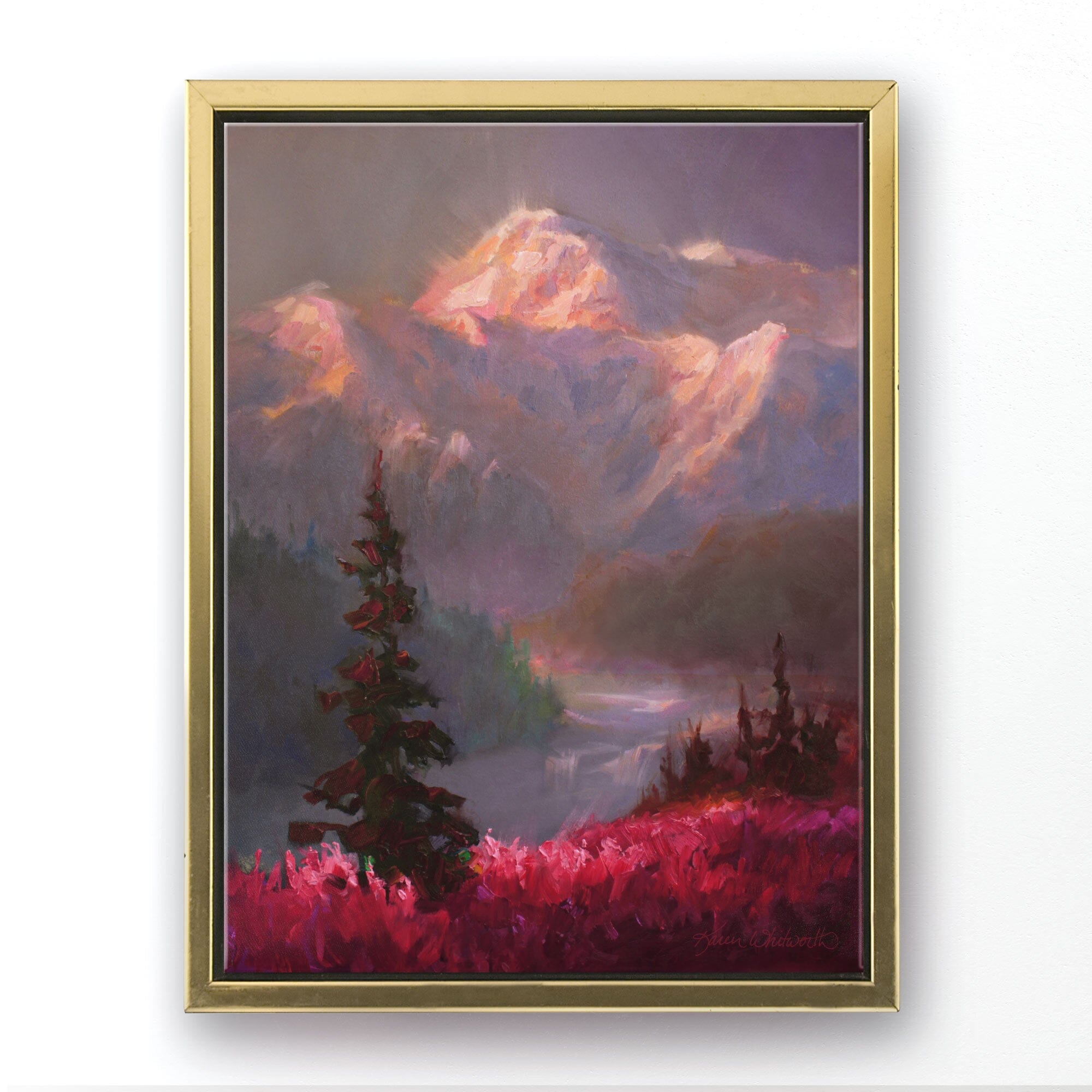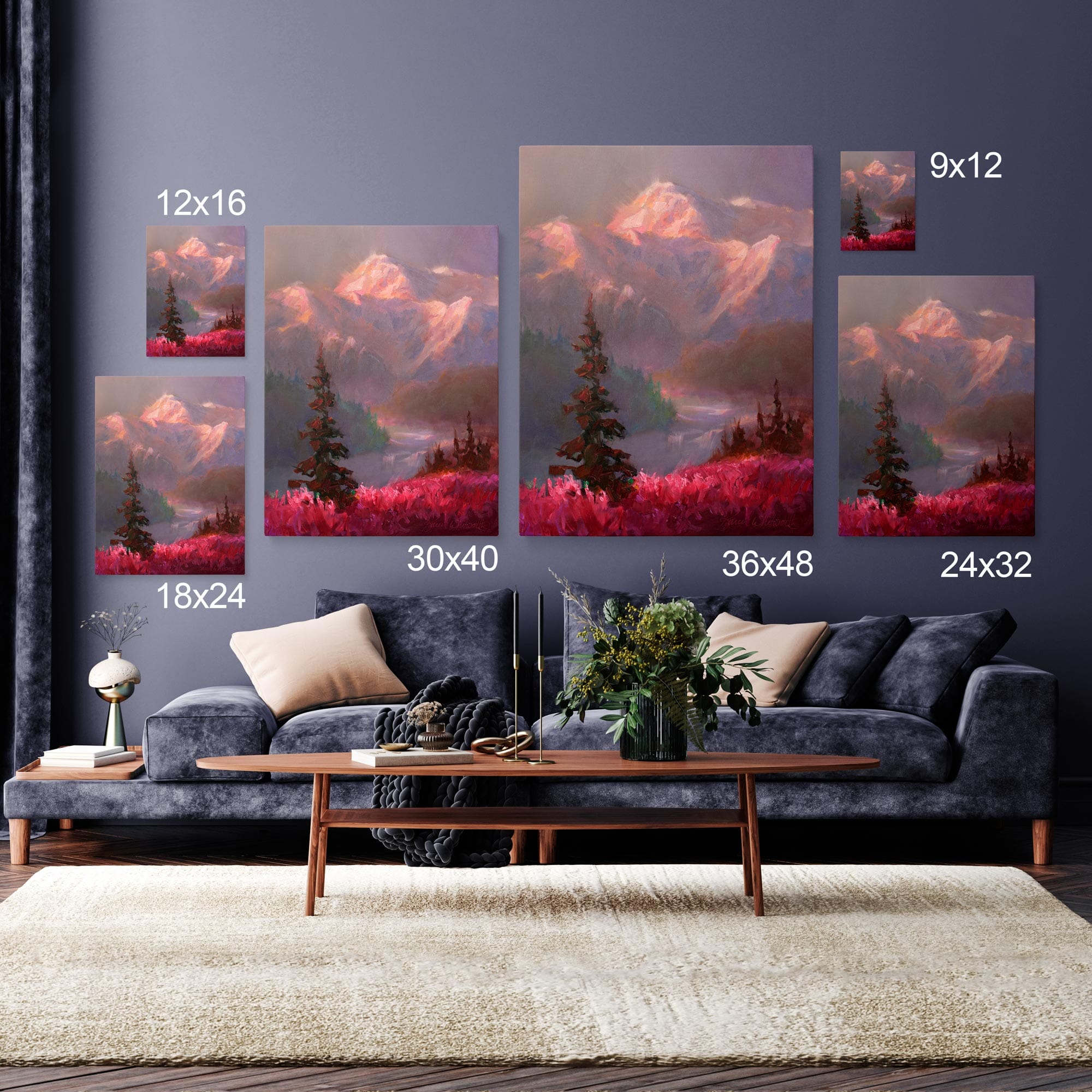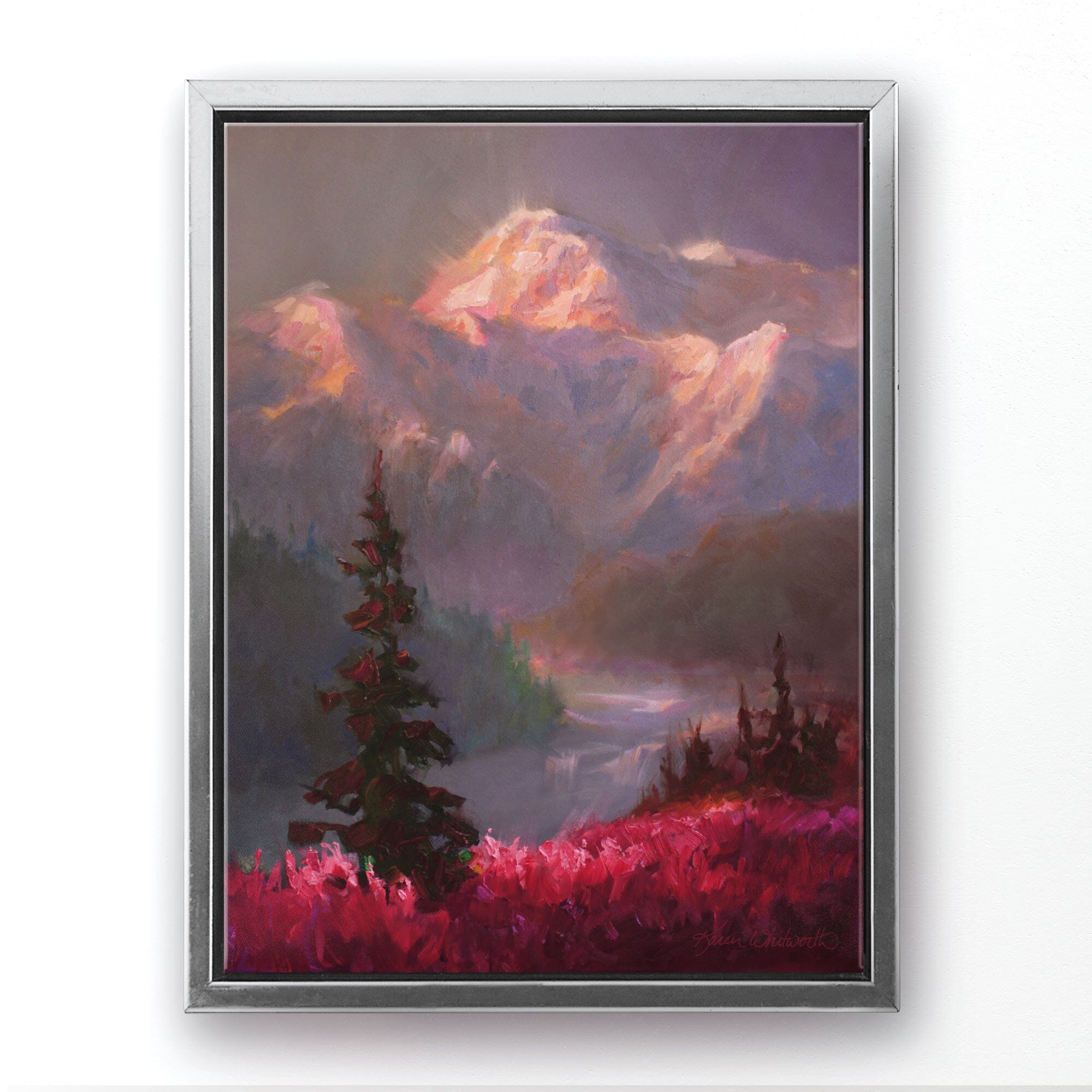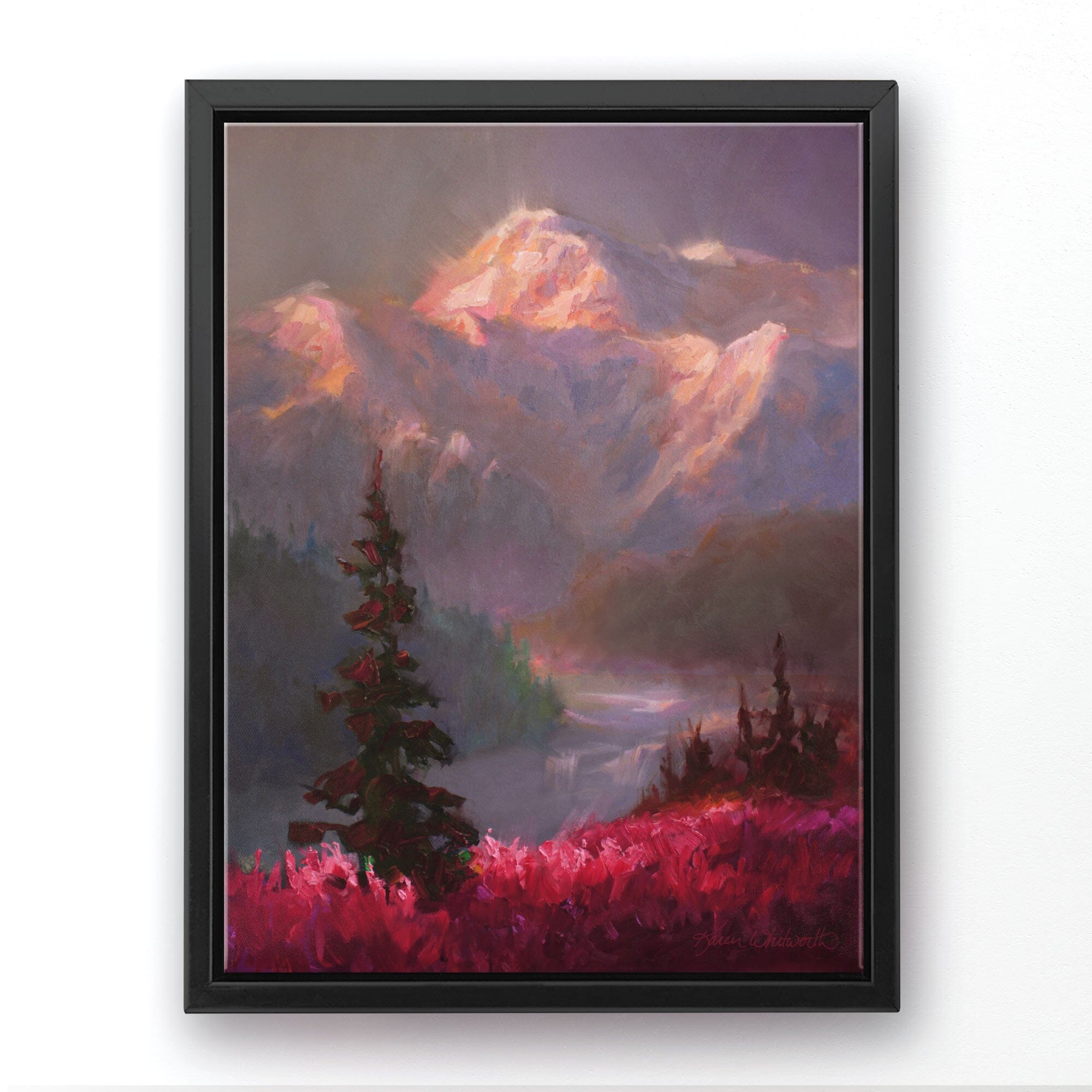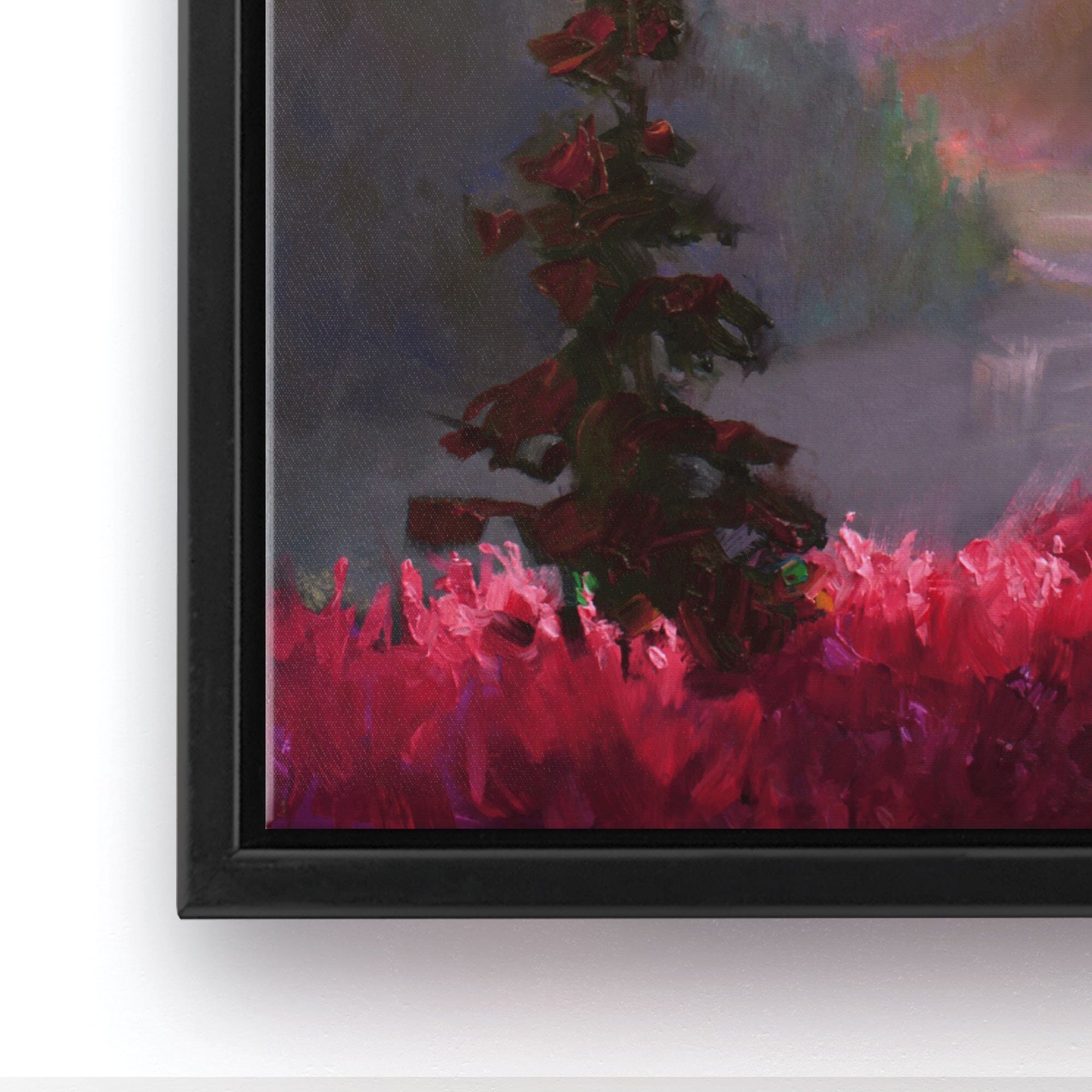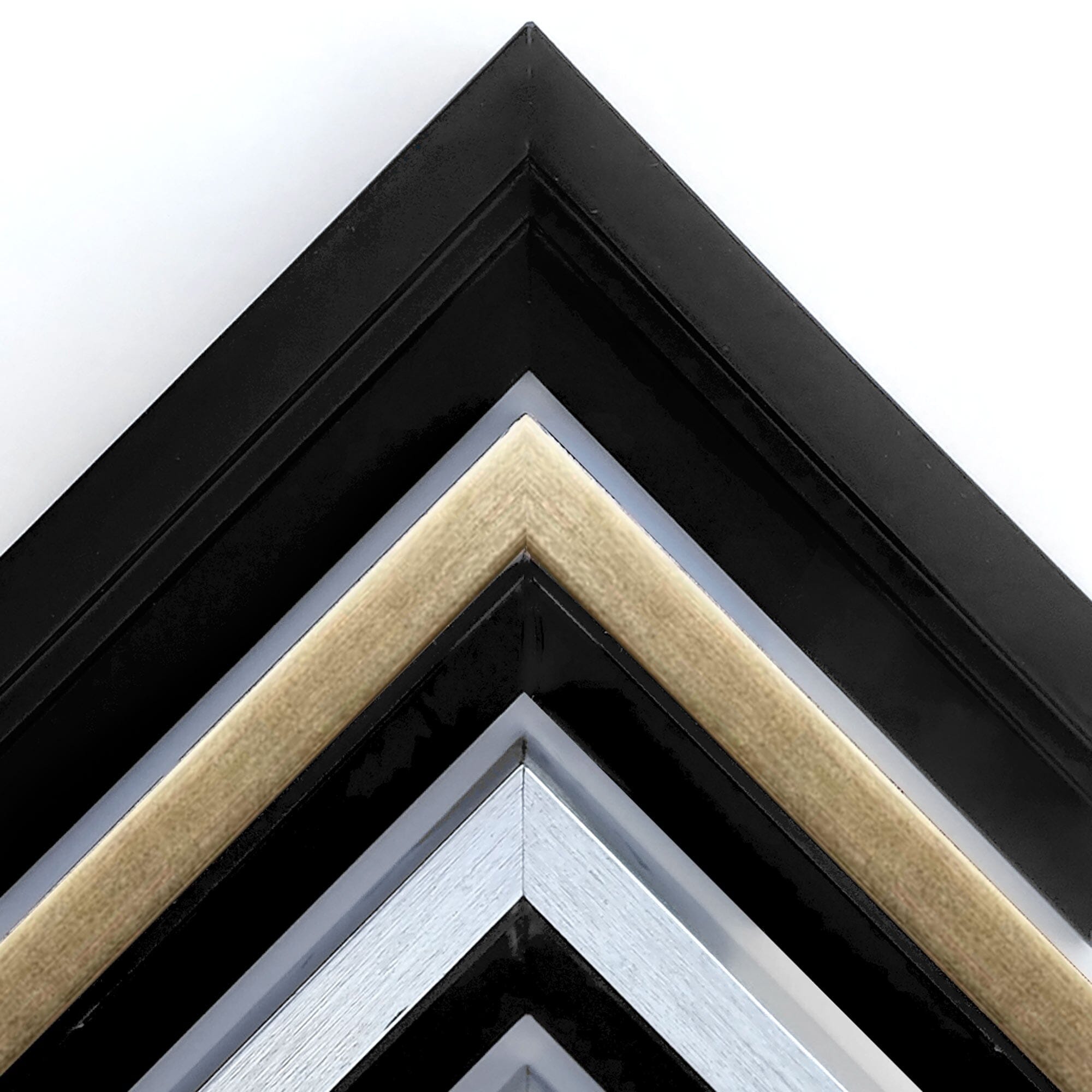 Alaskan Wall Art Canvas of Summer Denali Painting by Karen Whitworth
Description
Explore the Wonder of Alaska With This Painting of North America's Tallest Mountain - Denali "The Great One"
Denali - the name in and of itself gives the artist inspiration to bring this painting to life. The snow covered mountain peaks give the Alaska Range power and authority. Your eyes touch the summit, opening a new window to Denali National Park as if to transport you there yourself. This glacier landscape was transformed into a beautiful oil painting to be enjoyed year round.

This stunning painting by Alaska artist Karen Whitworth is titled "Denali Summer" and is now available as a gallery wrap canvas.


About Denali National Park and Exploring The Beauty Of Alaska
Located in North America, Denali National Park in Interior Alaska is a massive draw for nature enthusiasts from all over the world. Exploring its vast untouched expanses, snow covered peaks, and enjoying the rolling alpine wilderness is a special experience to cherish. When you touch down at Anchorage International Airport, this ancient glacier landscape is only a car or truck ride away, allowing you to experience Southcentral Alaska and the beautiful Chugach Range as you make your journey to this incredible National park. A vehicle opens a new window of opportunity to take in the vastness of "The Great Land" all at your own leisure. While this painting depicts the beauty of Alaska in summer, the Alaskan landscape can be enjoyed all year, whether it be exploring wonder lake when the temperatures are warmer, to enjoying the fall color of the tundra and forest, or watching the northern lights dance over the snow covered Alaska Range, this gem of North America is a true natural treasure, something all should experience at least once.

Canvas Art Features
Hand made in the USA

Fadeproof color

Heavy-duty solid wood construction

Ready to hang
FREE US Shipping
Order with confidence knowing your Alaska wall art is made by hand, and packaged with great care, before the canvas painting leaves the artist's studio. We provide you with a tracking number so you can follow it's progress as it makes it's way to your door. Delivery time is approximately 3 weeks from time of order. 
If there are ever questions about your order, we will be standing by, ready to assist. Our customers can always reach us directly at info@karenwhitworth.com
Care Instructions
Wipe canvas surface clean with a soft cloth.
As with all wall art, keep out of direct sunlight.
---
Alaskan Wall Art Canvas of Summer Denali Painting by Karen Whitworth
Shipping
Guaranteed Delivery
Shop with confidence knowing that your order will arrive safely and securely packaged to ensure protection during shipment.
Order tracking
All orders come with tracking information so you can follow your shipment every step of the way.
Get in touch
The karenwhitworth.com team is ready to help with any questions you may have: Contact us
About the Artist
Karen Whitworth is a contemporary artist with a passion for painting colorful landscapes, seascapes, florals, and wildlife. Her works are known for their unique approach to light, which features bright and vibrant hues that capture the ever-changing essence of nature.

Karen's artistic journey began when she was a child in the Pacific Northwest. From the lush forests of Oregon to the rugged mountains of Alaska, her hunger for capturing the beauty around her was a constant theme. This love for the outdoors has since grown to encompass the Islands of Hawaii and beyond. As her portfolio grows, the love for nature remains a prominent hallmark in her works.

It is this same passion, and her vivid use of color that often draws collectors to her work. But more than just eye-catching, this truly captivating quality is also what makes her art perfect for enhancing a living space or dwelling. It's vibrant and uplifting presence elevates the space with beauty and light.
Why our customers love us...
"

Even though the photo delivered matched the one I ordered, the color and quality of this photo surpassed any expectations I had. It was packaged with care and arrived undamaged. I love this picture. Thank you Whitworth Gallery.

"
"

The colors of this beautiful print just sing! Can't wait to get it framed. Quick shipping. Thank you.

"
"

The only difference between what you see on the website and what you get in the mail is that it is even more beautiful in person. My print is now in a koa frame with matting that brings out the colors of the house. It hangs in my living room and really adds to the beauty of my home.

"