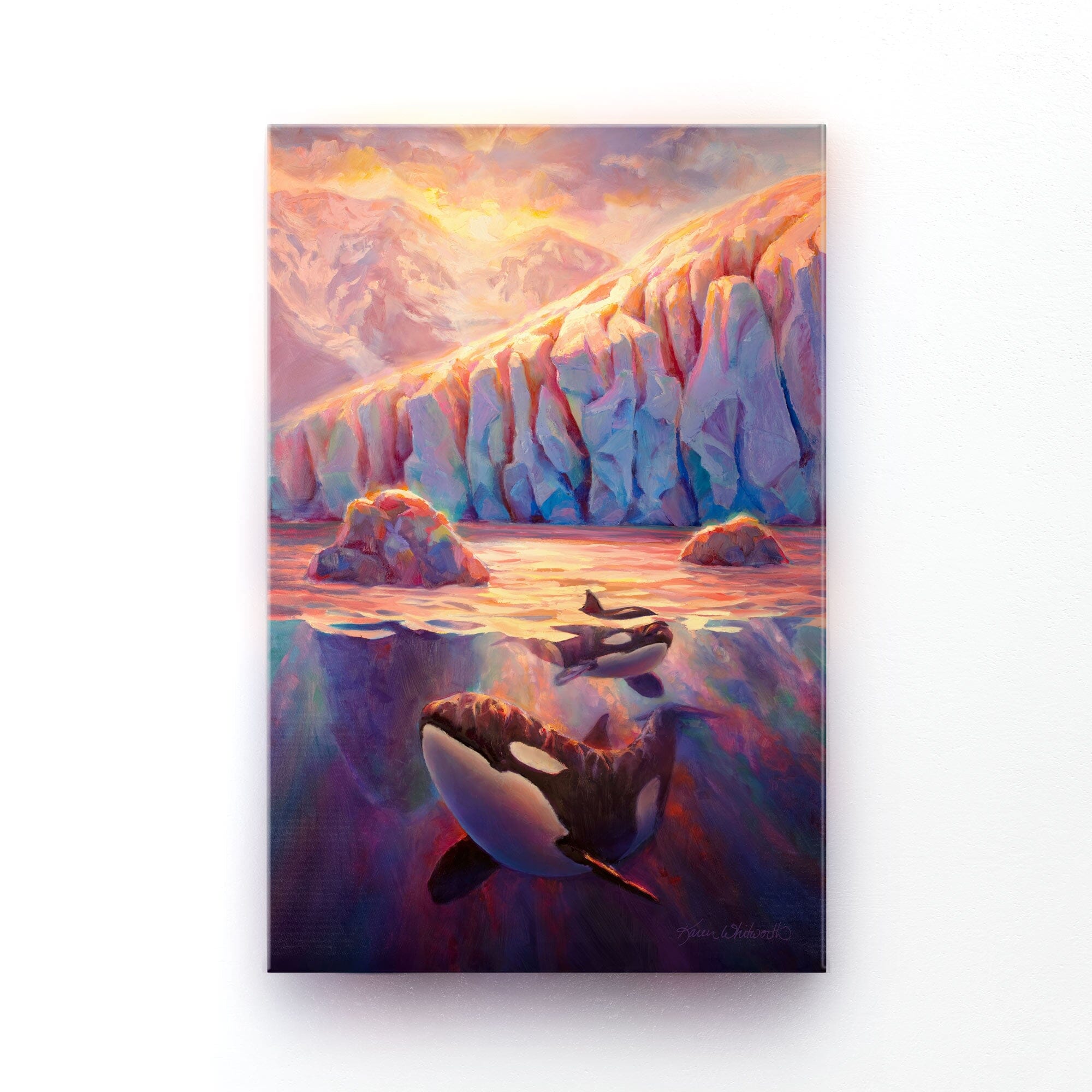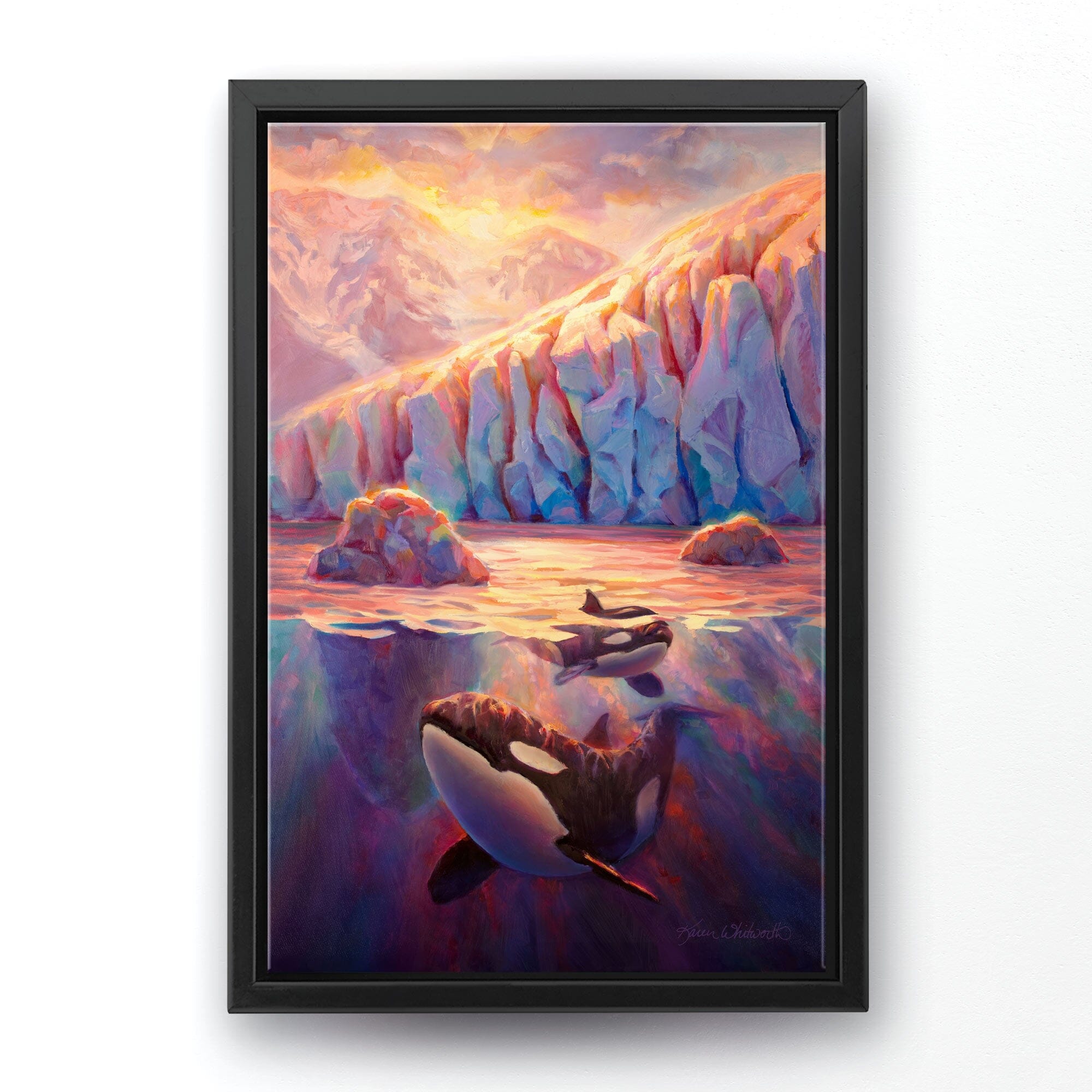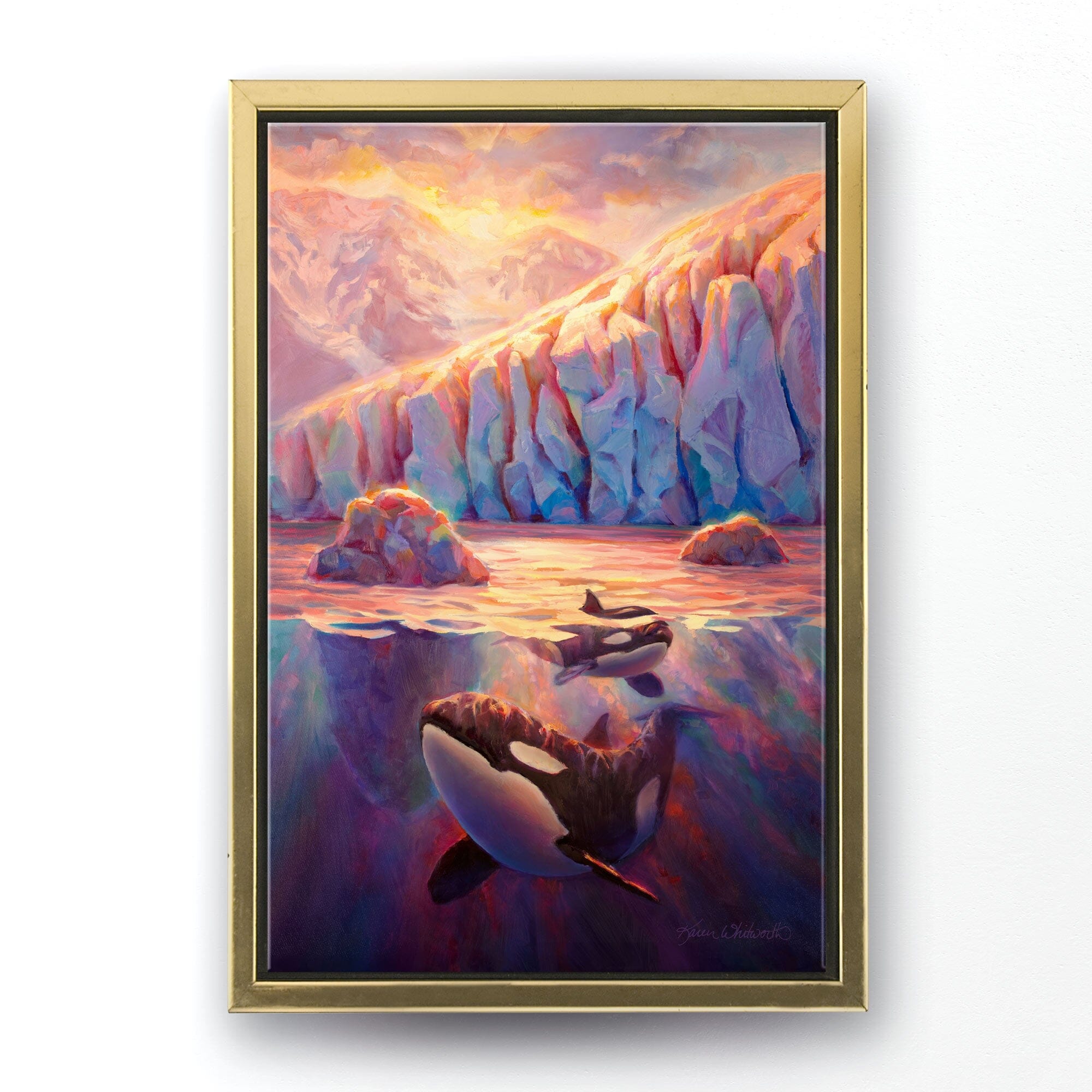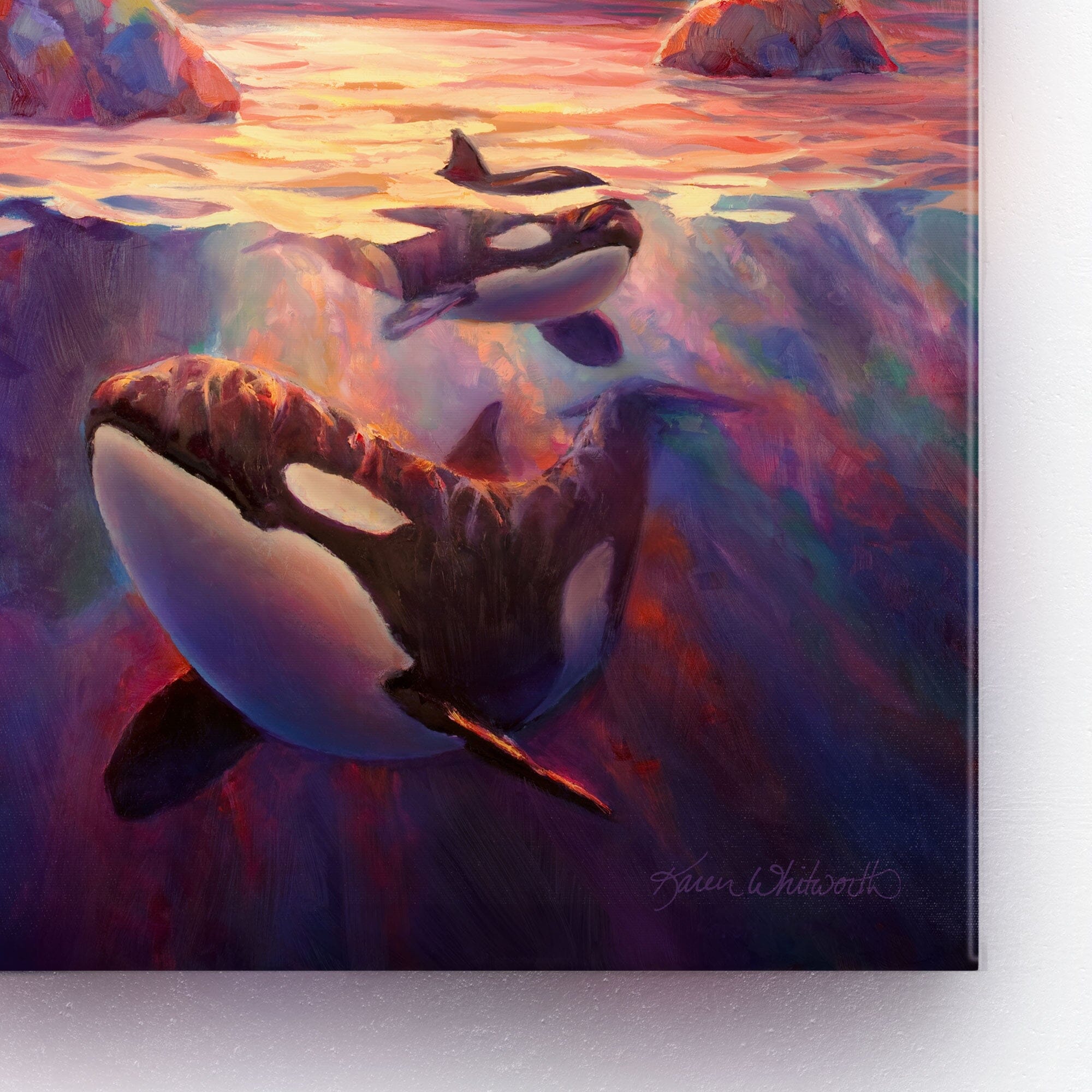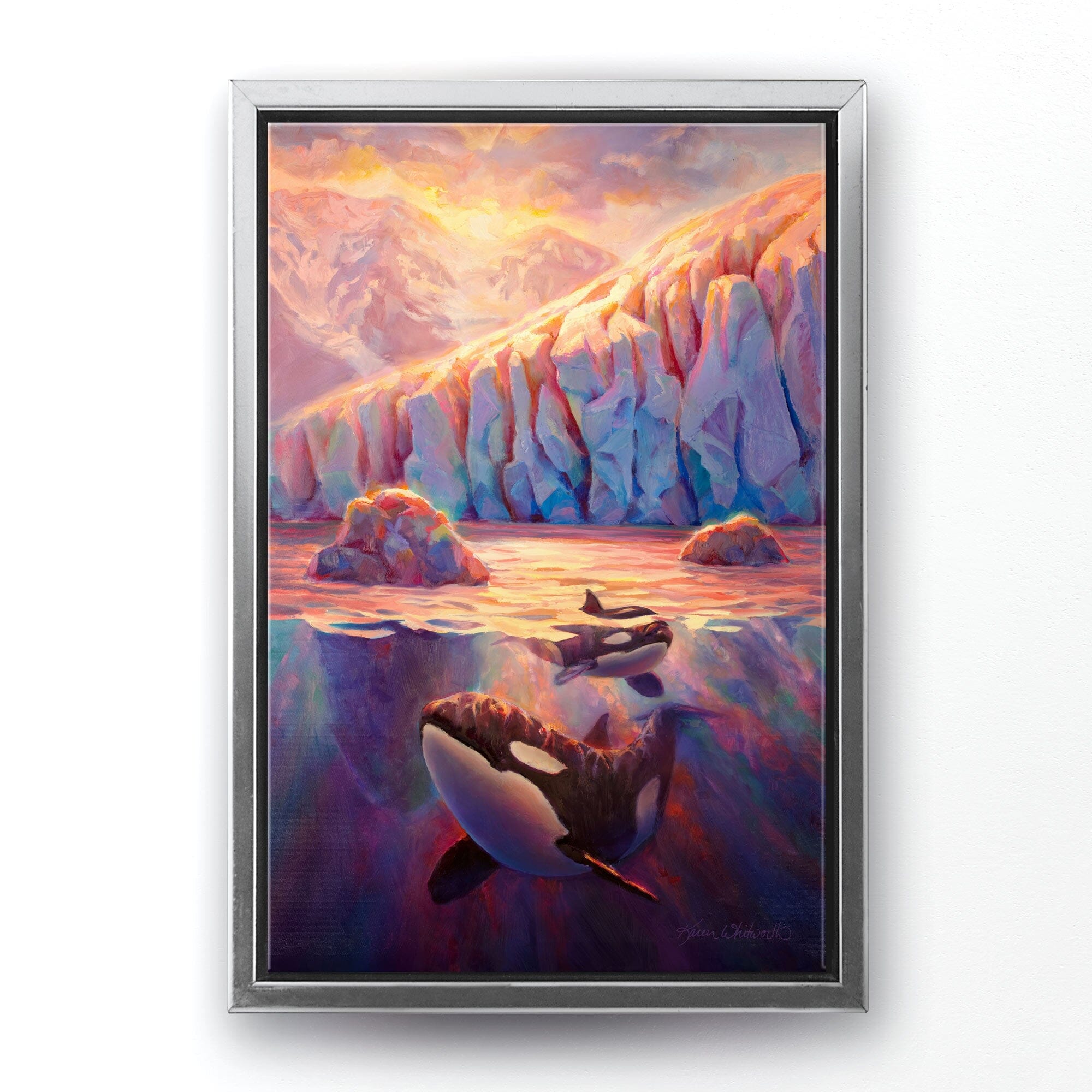 Orca Wall Art Canvas - Killer Whale Painting - Orca Sunrise
Description
A Canvas Print of a Beautiful Orca Painting
Beneath the icy waves, an orca whale swims towards the viewer in this captivating scene by marine artist Karen Whitworth. The original painting, titled "Orca Sunrise" is full of iridescent light and vibrant color that crescendos through the ocean depths into a symphony of texture and hue. From the crevasse filled face of the towering glacier, to the distant clouds breaking atop the mountains, making way for the rising sun, the scene radiates the spirit of coastal Alaska and every wild sea creature who calls it home.
Meet the Orca, an Incredible Marine Mammal
Spanning a massive range, Killer Whale (Orcinus Orca) can be found from the Pacific coast of far-east Russia to the Island rich Puget Sound near Seattle, Washington. These skilled hunters are also incredibly social, living in pods containing several generations of their family where they pass on their knowledge to each new member. As they search for fish and other prey, this unique animal species has been known to travel as much as 100 miles in a single day. Beyond just the impressive nature of their physical attributes, the Orca also holds a particularly special place in the culture of Northwest Native peoples. Killer whales have been a pillar in their heritage for millennia, a rich tradition that continues to this day.
Canvas Features
Hand made in the USA
Heavy-duty solid wood construction
Easy to hang
FREE Shipping (Including Alaska & Hawaii)
Order with confidence knowing your beautiful orca canvas is made by hand and packaged with great care. We provide you with a tracking number so you can follow its progress as it makes its way to your door. We pay the shipping and ensure everything arrives in perfect order.
Production & Delivery Time
This canvas art print is handmade to your specifications. Please see delivery estimate for current production time.  Shipping time within the US takes approximately 3-5 business days. (This may be subject to local or holiday delays)
If there are ever questions about your order, we will be standing by, ready to assist. Our customers can always reach us directly at info@karenwhitworth.com
Care Instructions
Wipe canvas surface clean with a soft cloth.
As with all wall art, keep out of direct sunlight.
---
Orca Wall Art Canvas - Killer Whale Painting - Orca Sunrise
Shipping
Guaranteed Delivery
Shop with confidence knowing that your order will arrive safely and securely packaged to ensure protection during shipment.
Order tracking
All orders come with tracking information so you can follow your shipment every step of the way.
Get in touch
The karenwhitworth.com team is ready to help with any questions you may have: Contact us
About the Artist
Karen Whitworth is a contemporary artist with a passion for painting colorful landscapes, seascapes, florals, and wildlife. Her works are known for their unique approach to light, which features bright and vibrant hues that capture the ever-changing essence of nature.

Karen's artistic journey began when she was a child in the Pacific Northwest. From the lush forests of Oregon to the rugged mountains of Alaska, her hunger for capturing the beauty around her was a constant theme. This love for the outdoors has since grown to encompass the Islands of Hawaii and beyond. As her portfolio grows, the love for nature remains a prominent hallmark in her works.

It is this same passion, and her vivid use of color that often draws collectors to her work. But more than just eye-catching, this truly captivating quality is also what makes her art perfect for enhancing a living space or dwelling. It's vibrant and uplifting presence elevates the space with beauty and light.
Why our customers love us...
"

Even though the photo delivered matched the one I ordered, the color and quality of this photo surpassed any expectations I had. It was packaged with care and arrived undamaged. I love this picture. Thank you Whitworth Gallery.

"
"

The colors of this beautiful print just sing! Can't wait to get it framed. Quick shipping. Thank you.

"
"

The only difference between what you see on the website and what you get in the mail is that it is even more beautiful in person. My print is now in a koa frame with matting that brings out the colors of the house. It hangs in my living room and really adds to the beauty of my home.

"